Just having a curriculum is great, but when it comes to implementation, you can check here for some things to help.
A great first place to start would be with the College and Career Readiness Curriculum itself. It includes a scope and sequence for both year long, and semester long courses as well as plug and play lesson plans. You can download the College and Career Readiness Curriculum by going to the link below and clicking on the red button that says "Register to Receive the Curriculum":https://texasoncourse.org/educators/curriculum-resources/texas-oncourse-college-and-career-readiness-curriculum/

Another great place to look is in the Curriculum Guide: (https://texasoncourse.org/media/1906/texas-oncourse-curriculum-guide_v4-2.pdf) It includes supplemental activities and some info about how to get started in the first few pages. Here's an example of what you will see on the first page: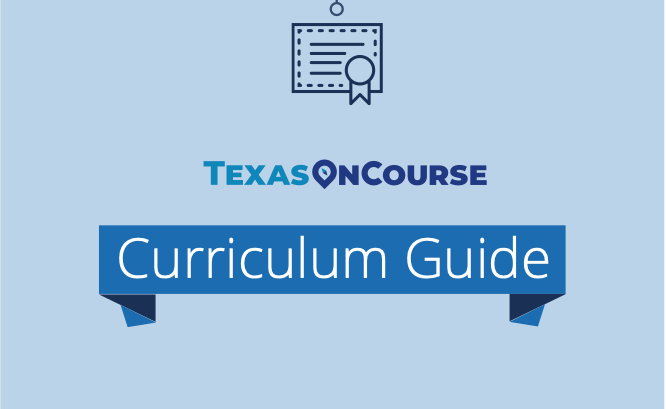 Another great resource, is the Texas OnCourse Academy. We have created a module called "Starting Early: College and Career Readiness in Middle School" that takes you through the curriculum and implementation tips. You should be able to find the module in your dashboard once you log in, or you can use the Module Directory.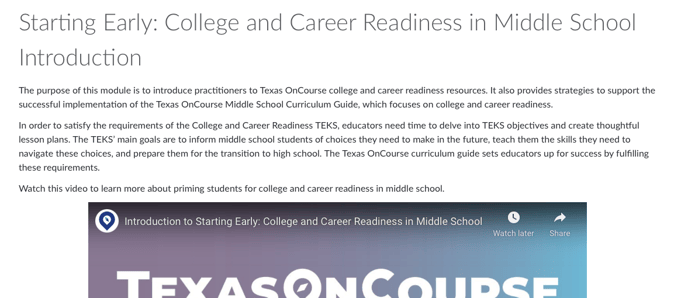 If you have any other questions, feel free to contact us through our Support Page (https://support.texasoncourse.org/kb-tickets/new)